The Murder in Skoghall is now available to read on Wattpad.
One of the cool things about social media today is authors and readers can connect and interact in ways we never could before. I'm taking advantage of a new forum I just heard about, called Wattpad (find the site here.) I heard the site explained on Joanna Penn's podcast, The Creative Penn, and let's just say it was motivating.
So, as you know, I'm working on Book 1 of The Skoghall Mystery Series, called The Murder in Skoghall. It's a ghost story/murder mystery. I'm just shy of 80,000 words into it as of today, and I've decided to go ahead and share the book as serialized chapters on Wattpad.
This is a bit scary. Well, it's a lot scary in the sense of putting myself out there, because I'm publishing my first draft material.Why on earth would an author expose her first draft? First draft stuff is notoriously bad, after all.
The premise behind Wattpad is that readers and writers can engage in new, exciting ways. Readers who like Skoghall will have the fun of reading it in serialized form and they will all be able to comment on it, engaging with each other and with me. I have noted at the top and bottom of the chapter that this is raw material and I will use helpful feedback to shape my next draft and therefore the published book.
That has the potential to create a sense of ownership among the readers who take the time to tell me what they like and don't like about the book.
I'll find out early on if the story is dragging somewhere or if readers are building an expectation that hadn't occurred to me, which could open up new possibilities for the story. It's like having a collective of beta readers. I think that's really cool.
Here's the cover I quick made for The Murder in Skoghall. It's a placeholder for the work-in-progress (so please don't critique the cover!). And yes, that is my typewriter. I'm getting a lot of mileage out of it!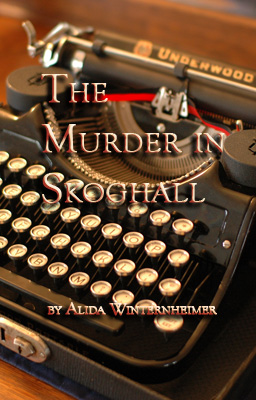 The Underwood actually plays a feature role in the story, but you'll have to start reading on Wattpad to find out how.